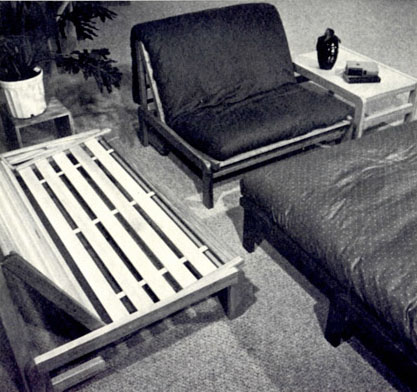 Futon Sofabed History
The Japanese invented and perfected the original futon mattress for sleeping. But a Cambridge woodworker invented the world's first futon sofa bed. And then Bedworks created the first layered foam-and-cotton futon mattresses for these new sofa beds.
William Brouwer created the futon sofa bed in 1982. Bedworks first introduced Brouwer's invention to the world.
William Brouwer had spent time in Japan and loved Japanese design. Brouwer had studied architecture at the Harvard Graduate School of Design; he was a fine woodworker & designer. Brouwer slept on a futon mattress on a low platform bed of his own design. Brouwer was already handcrafting these low platform beds for Bedworks.
One day in 1982, Brouwer had a brainstorm: He knew futon mattresses are flexible: the Japanese roll them up every morning. If futons are flexible like a piece of paper, then folding them into sofabeds is simple origami.
Brouwer hinged a double bed width-ways in three clever pieces. Voila! Brouwer had devised the folding futon sofabed! Brouwer had his woodshop and home at 9 Montague St., 400 yds. down Western Ave. from Bedworks.
Now 30+ years later, humans sleep on futon sofabeds all around the world, not just in Cambridge. Brouwer's invention has circled the globe. Futon sofa beds have been crafted in Canada, the U.S., Mexico, Argentina, Brazil, Chile, Trinidad, Romania, England, Denmark, France, Italy, Spain, China, Malaysia, and Indonesia. Each country has woods of different strengths. Customers have found that the heavier, higher-density hardwoods resist breaking. These heavier hardwoods, In Bedworks' experience, make futon sofa beds that last much longer.