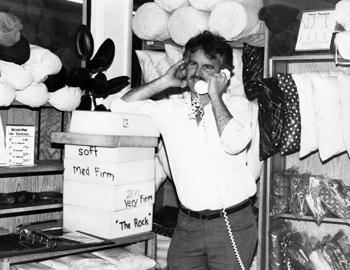 Bedworks History
In 1975 John Buster, an ex-US DOJ civil rights trial attorney, began making platform beds for neighbors and friends. First in a basement in mid-Cambridge, then in a third floor loft above Mass. Ave. in Central Square. And Bedworks was born. Seven years later, Bedworks began handcrafting futon frames and futons.
If you've lived in an old house or apartment in town, you might have faced a predicament: how to squeeze a queen box spring or sleep sofa around an impossible staircase or tight doorjamb. Bedworks built the answer: modular platform beds and sofa beds that disassembled to always fit.
Both designs became incredibly popular with students and apartment dwellers because they were comfortable, versatile, and mobile. And Bedworks was the place in Cambridge to get them.
At the corner of Western Ave. and Green Street since 1982. So here we are, more than three decades later, and Bedworks is still the place to go for platform beds, mattresses, and sofa beds. Why? Because Bedworks offers furniture with lifetime warranties. And because Bedworks still offers the best value and selection of quality platform beds and sleep surfaces.