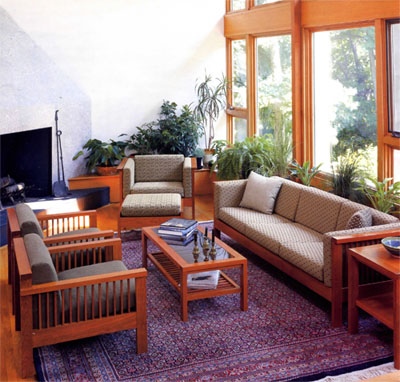 Charles Webb Replacement Webbing
Rubber webbing oxidizes. The rubber webbing in Charles Webb sofas regularly wears out within ten years, and unfortunately Charles Webb Furniture closed in 2007. So what are loyal Charles Webb customers' options if they want to keep using their Richardson Sofas, Loveseats and Chairs?
Several of our customers brought us this question, along with their worn-out Charles Webb sofa "drop-in" oak deck frames visible in the photo below. Now we have developed a wonderful answer!
Bedworks has found the source of a new, marvelous resilient hi-tech deck material for sofas and chairs. It's called "Elastomeric Sheet Web Suspension". It is such a super durable material that Herman Miller now employs it in sofas that retail for $7800. While this material is amazingly resilient, it does NOT oxidize like rubber webbing. It lasts a lifetime. This patented deck material is based on the elastomeric properties of high strength polyester monofilament.
Our new decking reduces frame stress, offers better comfort, is more highly soil and stain resistant, and has outstanding heat and age-resistance qualities compared to conventional webbing products. It surpasses all government and business technical requirements, including FNE 83-258-B and BIFMA. Indeed, its manufacturer tested it with a 150 lb deadweight from a 2" height . . . up and down, up and down, up and down. It surpassed 550,000 cycles still going strong, with only a 4.6% load bearing loss.
We did the math. If you sit on your Charles Webb sofa 15 times a day, our hi-tech decking will last you for more than 100 years. If this material had existed when his Richardson Sofa was designed, we think Charles Webb would have used it too.
Charles Webb's design principles were outstandingly "Green" before it was fashionable. As Webb's brochure remarked:
"Richardson seating has met with enthusiastic approval from customers for years because it continues to look and wear well despite hard service. Pieces are not upholstered in the conventional sense - each loose cushion of several layers of foam is covered in muslin. The outer zippered cover may be removed for dry cleaning, seasonal chance, or replacement."